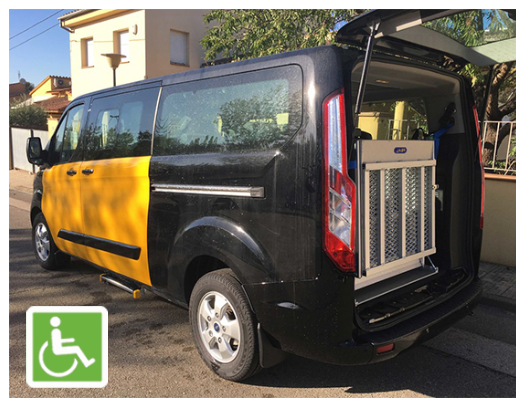 If you are looking for an wheelchair adapted taxi in Barcelona, we have in our fleet a special taxi suitable for up to 2 wheelchairs.  You can use it for Tours in Barcelona, transfers to the airport, transfers to a hospital, transfers to a station or port and transfers to Barcelona. any street in Barcelona or city in the metropolitan area. We also have pick up service anywhere in Barcelona, airport or hospitals. We know that mobility in Barcelona for people with reduced mobility is sometimes a problem and that is why we offer our special Wheelchair taxi.
Our Adapted taxi has:
7 seats
Suitable for up to 2 wheelchairs
Entrance ramp
Possibility of early booking
Card payment
The taxi is also 7 seats, which makes it ideal for all types of transfers for families or groups of friends. You just have to call our phone number and book your adapted taxi to enjoy Barcelona.